Your Vancouver Home Will Look Better In An Instant With House Washing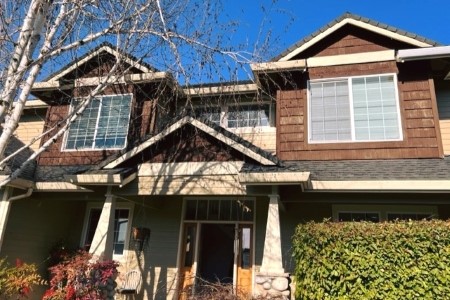 Get affordable quality house washing to transform your Vancouver home from drab to fab in as little as an afternoon! If your home needs spruce, don't think you have to spend thousands to do it. When new landscaping or decor won't do the trick, it's time for your annual house washing from Puddles Pressure Washing!
There's a reason Puddles Pressure Washing is Vancouver's top choice when it comes to pressure washing. If you want great service and unbeatable rates all with professional first-class customer care, then the only name you need to know is Puddles Pressure Washing. We work hard to deliver top-notch results you're going to love, all with as little disruption to your day as possible.
Puddles Pressure Washing offers both commercial and residential pressure washing services to make property maintenance easier than ever. Whether you need house washing, routine gutter cleaning & brightening, or more specialized services like paver sealing, we're at your service!
Call 360-360-1305 to book house washing for your Vancouver home now!
Make Your Home Look Like New With Exterior Home Surface Cleaning
House washing is the perfect way to show off your home's natural beauty or restore its exterior without breaking the bank.
Annual house washing removes layers of dirt, pollen, fungus, and animal droppings that can cause your home to look tired and lackluster. Customers will be amazed to see the difference a single house washing session can make.
Wondering if your home can be pressure washed? Puddles Pressure Washing has experience cleaning a variety of materials, including
Vinyl
Aluminum
Wood
Stucco
Brick
Slate
Stone
and more! You name it, and we can clean it!
Yearly house washing not only ensures that your home looks great and your property values stay high, but it also helps you keep an eye on potential issues like cracks, stains, or pest nests and stop them in their tracks before they can cause big (and expensive!) problems.
Upgrade Your Curb Appeal With Residential Exterior Cleaning
Getting ready to put your home on the market? Give your property an edge over the competition with house washing!
House washing is the perfect way to give your home that like-new move-in ready feel potential buyers are looking for. They say first impressions count, so make sure you make a positive one! You want buyers to see their dream home, not a money pit.
House washing doesn't just make your home's exterior pop! But it also shows that the property has been taken care of.
Show your home you love it with professional house washing from Puddles Pressure Washing! Call 360-360-1305 to schedule your next cleaning.
---
Recent House Washing Related Articles
Benefits Of Professional House Washing

If you've never had your home professionally pressure washed, then you don't know what you're missing! Professional house washing has a number of benefits that range from increasing your property's value to low maintenance bills. When a bucket of hot water and a scrub brush won't do, […]
READY TO SCHEDULE YOUR VANCOUVER PRESSURE WASHING SERVICES? FILL OUT OUR CONTACT FORM NOW!