Deck Cleaning For Relaxing Outdoor Living Spaces In Vancouver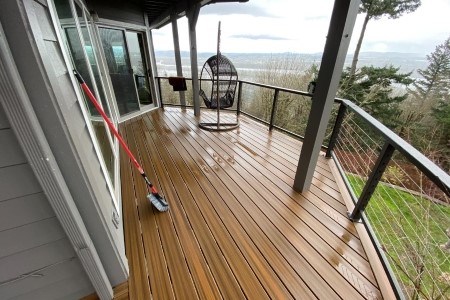 Refresh your deck this season with quality, affordable deck cleaning from Puddles Pressure Washing. If your deck is looking stained, dull, or has a slippery coating over it that hand scrubbing and the hose won't remove, then you need to call in the pros at Puddles Pressure Washing.
Puddles Pressure Washing is proud to offer residential and commercial pressure washing for Vancouver and the surrounding areas. Our extensive line of pressure washing services has your property covered from every angle, including your outdoor entertaining spaces like decks and patios.
Property maintenance can seem daunting, and there are some important tasks you know you shouldn't overlook, like roof cleaning or gutter cleaning, but what about decks, porches, patios, or fences? Often our outdoor entertaining spots can take up a lot of room and be costly to repair. Annual fence cleaning or deck washing ensures your wood, wood composite, or vinyl surfaces stay clean and free from stains, mold, and mildew while helping protect them against the wind, snow, rain, and whatever else mother nature wants to throw at them.
Staying up to date on property maintenance has never been easier thanks to Puddles Pressure Washing! Call today at 360-360-1305 to book a service for your property.
Protect Your Property With Wood & Composite Deck Washing
Decks are great ways for families to enjoy the outdoors. They are the perfect spot to entertain or relax. Because surfaces like decks often see heavy use and foot traffic, annual maintenance like deck cleaning can help your wood or composite surface last longer while also saving you money and time when it comes to costly repairs.
Deck cleaning is a simple way to remove moss or mold build-up that can create a slick unsafe walking surface while also removing unwanted stains, dirt, and sanitizing the area for a fresh, clean space you and your friends and family can enjoy all year long.
Finest Porch Washing Professionals To Care For Your Property
Puddles Pressure Washing doesn't stop at deck cleaning. Our long line of residential pressure washing services means if you have patios or porches, we're there to help you keep them clean and clear, and ready for use.
Annual professional cleaning of outdoor spaces, like porches, walkways, or patios, can help keep your property safe and looking great. Removing slippery growths like moss, weeds, and mold, along with dead leaves or dirt buildup, ensures the area is for you, your family, and guests to use.
Keep your outdoor surfaces strong and looking great season after season with routine pressure washing from Puddles Pressure Washing. Call 360-360-1305 to set up an cleaning today!
READY TO SCHEDULE YOUR VANCOUVER PRESSURE WASHING SERVICES? FILL OUT OUR CONTACT FORM NOW!