Low And No Pressure Vancouver Roof Cleaning To Safely Wash Your Roofs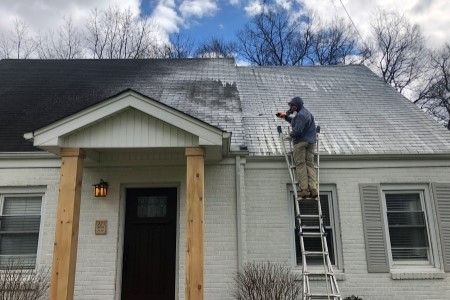 Puddles Pressure Washing offers safe and affordable roof cleaning for Vancouver residents. That's right! If you've been putting off cleaning your roof, now is the time. A properly maintained roof means years of trouble-free maintenance; it's also lighter on the wallet too!
Puddles Pressure Washing wide range of pressure washing services includes both residential and commercial properties. No job is too big or too small for us! We're here to help you with all of your seasonal maintenance to make sure no important task is overlooked.
Hiring professionals for seasonal jobs like roof cleaning, gutter cleaning & brightening, or house washing is a simple way to ensure your home is looking great and in working order all year long. Don't overlook the importance of the little things.
It might be easy to ignore things like your roof, but as one of your home's most expensive exterior surfaces, it's important to keep it free from harmful growth like algae and moss that can weaken your shingles and even damage your home's structure.
Ready to check a few chores off your to-do list this season? Call 360-360-1305 to book your next cleaning.
Roof Washing To Best Maintain Your Curb Appeal & Property Health
Annual roof washing is an important task so make sure it's taken care of. Hiring a professional ensures that not only does the job gets done but gets done safely and correctly.
Roof washing is the perfect way to maintain your shingle's health. Just a regular yearly roof washing can extend the life of your shingles by up to two years!
Roof washing is the perfect way to remove harmful algae and moisture-locking moss, plus layers of dirt, dust, animal droppings, dead leaves, and debris all of which can add up over time and leave your roof prone to leaking, wind, or storm damage.
Gentle Roof Soft Washing To Wash & Protect Your Rooftop
If you're familiar with pressure washing, then you know how powerful it is. This means it can easily damage materials like shingles, leaving you to wonder if pressure washing is even safe for your roof.
Well, we're here to put your mind at ease. Puddles Pressure Washing uses premium soft washing to ensure dirt, fungus, and grime is safely washed from your roof without the risk of damage that traditional pressure washing carries.
Soft washing uses lower PSI (pounds per square inch) and gentle cleaners to safely lift away stains and dirt for a bright, crisp finish you're sure to notice.
Soft washing is safe for a variety of roofing materials, including,
Asphalt
Wood
Slate
Metal
Tile
and more! Soft washing is the perfect way to safely clean your roof.
Call 360-360-1305 to schedule roof washing for your property today!
---
Recent Roof Cleaning Related Articles
READY TO SCHEDULE YOUR VANCOUVER PRESSURE WASHING SERVICES? FILL OUT OUR CONTACT FORM NOW!