Fence Cleaning Vancouver To Keep Your Fence Looking Fresh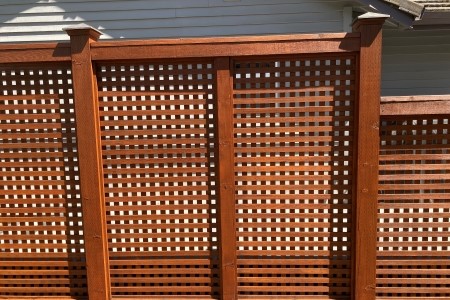 Looking to clean up your Vancouver home's property line with fence cleaning? Then call the experts at Puddles Pressure Washing. When a garden hose and the scrub brush won't cut it, you need to call the professionals.
Why trust Puddles Pressure Washing? There's a reason Puddles Pressure Washing is Vancouver's go-to source for all things pressure washing. Not only do we offer premium quality pressure washing at affordable rates but also offer first-class customer service you won't find anywhere else.
Whether you need pressure washing for your home or business, our extensive line of services is here to make your day a little easier. With over a decade of experience dealing with high-water pressure systems and equipment, Puddles Pressure Washing is ready to tackle your toughest jobs, one stain at a time.
Do you need house washing? Fence washing? No problem! Puddles Pressure Washing does it all! Our wide range of residential pressure washing services has you covered from the gutters to the ground. Roofs, driveways, and everywhere in between, we're at your service.
Call 360-360-1305 to book a cleaning for your property today.
Fence Pressure Washing Professionals - Here To Help
Fences are important parts of our properties. They maintain property lines, help keep our pets or children safe, and give us privacy when we want to sit back and relax. They can be expensive to put in or replace, so keeping the one you have intact and strong is important.
Annual fence cleaning or wood or vinyl fences are the perfect way to ensure your fence stays in great shape all season long.
Considering your fence is subject to constant sun, wind, temperature changes, rain, and anything else mother nature wants to throw at it, it can become dull, discolored, and stained quickly. Annual fence cleaning easily lifts and washes away mold, moss, algae, dirt, and general buildup for refreshing results that look great from every side.
Fence Washing Helps To Properly Maintain Your Fence Line
Like other outdoor surfaces like decks or porches, annual cleaning helps keep your fence strong and saves you time and maintenance in the long run.
Regular fence cleaning is the ideal way to remove moss and mildew that can grow and hold in access moisture that leads to weakened wood and rot that can cost you. When your fence is clean and free of debris and unwanted growth, it's easy to keep an eye on small things and fix them before they become potentially big issues later on.
Keep an eye on your fence and make sure you're getting the most for your investment with routine fence washing from the pros at Puddles Pressure Washing. Call 360-360-1305 to schedule your next service.
READY TO SCHEDULE YOUR VANCOUVER PRESSURE WASHING SERVICES? FILL OUT OUR CONTACT FORM NOW!