Gutter Cleaning & Brightening To Restore The Luster Of Your Vancouver Home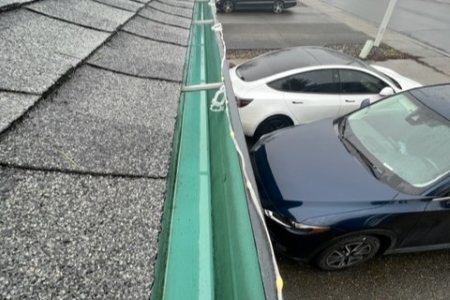 Puddles Pressure Washing offers premium gutter cleaning & brightening for Vancouver homes! Gutter cleaning is one service you should not overlook when it comes to property maintenance. Having gutters cleaned twice yearly in the spring and autumn is the perfect way to ensure they are ready for the upcoming season.
Puddles Pressure Washing is proud to offer high-quality and affordable pressure washing for Vancouver residents. Whether you need residential or commercial, we're here to help make your day a little easier. Our long line of pressure washing services means Puddles Pressure Washing is your one-stop shop for all things pressure washing.
Basic residential services like gutter cleaning & brightening, roof cleaning, and house washing are a few simple ways to make sure you get the most out of one of your biggest investments, your home. Hiring professionals to clean away harmful moss and algae, as well as layers of dirt, dust, and general grime, helps keep your home looking beautiful season after season.
Don't settle for less than the best where your home is concerned. Call 360-360-1305 to schedule a cleaning.
Downspout Washing To Restore The Luster Of Your Home
Routine gutter cleaning & brightening is something a homeowner might overlook or think they can do themselves. In reality, hiring a professional has a number of advantages. It's often safer because they have the experience and safety equipment needed for the job.
Another reason? Professionals have the tools to make sure every inch of your gutters interior is free from muck which can lead to clogs and standing water.
What about the outside of your gutters? If your gutters are wearing "tiger stripes" these days, you know those black streaks caused by things like dirt, mildew, and algae, then gutter brightening is just what you need to give your home crisp, clean edges.
In as little as a few hours, expect your gutters to sparkle inside and out with our premium gutter cleaning & brightening.
Gutter Washing For Smooth-Flowing Gutters
Annual gutter cleaning can remove dead leaves, twigs, animal droppings, dirt, and gunk that can build up and lead to clogs in your downspouts. Standing water, mildew, mold, and access moisture are all things that can damage your home's structure over time and lead to costly repairs.
Gutters were designed to carry rainwater away from the home's foundation, so if they are clogged and can't do their job, expect rain to overflow and puddle near the sides of your house, which can cause potential foundation issues.
Either way, clogged gutters are best avoided. Don't wait! If you need gutter cleaning & brightening for your home, call 360-360-1305 to book a service today.
READY TO SCHEDULE YOUR VANCOUVER PRESSURE WASHING SERVICES? FILL OUT OUR CONTACT FORM NOW!