Sidewalk Cleaning To Best Maintain Your Vancouver Walking Paths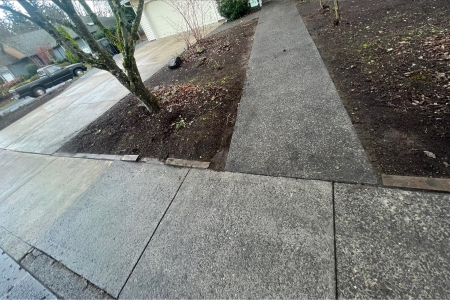 Looking high and low for reliable sidewalk cleaning for your Vancouver property? Then look no further than Puddles Pressure Washing! We are your one-stop shop for all things pressure washing. We offer both residential and commercial pressure washing services to ensure you're covered from all sides.
Puddles Pressure Washing has worked hard to earn Vancouver's trust and become one of the top names in pressure washing. With a decade of experience working with high-pressure hoses and equipment, we know how to safely and effectively clean your home or business for premium, eye-catching results that will look great season after season.
Routine professional services that include things like sidewalk cleaning or dumpster pad cleaning are simple ways to ensure that your property stays in great shape and is clean and clear for visitors wishing to visit your business.
Ready to get started? Call 360-360-1305 to schedule sidewalk cleaning for your property now.
Walking Surface Cleaning To Keep Your Property Looking Great
Annual professional sidewalk cleaning is just a smart part of property maintenance that can have a big impact. Bright, clean concrete can make a major impression on your property's appearance and give it a like-new finish that shows it's cared for and safe to visit.
Sidewalk cleaning makes light work of removing tough stains, old chewing gum, graffiti, and dirt that regular hand scrubbing and a garden hose can't touch.
And when it comes to unwanted growth, sidewalk cleaning is the perfect way to blast away weeds, grass, moss, and seedlings that can grow up between the cracks or along the edges, creating a messy appearance and potentially slippery walking surface.
Sidewalk cleaning removes dirt and grime from the surface of your sidewalk as well as helps maintain your concrete's interior strength to prevent premature damage.
Walkway Washing For Safer Walking Surfaces
A clean and easy-to-access walking path ensures that whoever is visiting your property will be able to do so safely.
Regular sidewalk cleaning doesn't just help keep your concrete strong and looking great, but it makes it safer for others to access. Whether you have a sidewalk at home or at your business, it's a public space that needs to be kept safe to avoid unwanted injuries.
During the winter, removing snow and ice is one thing, but what about the rest of the year? A seasonal sidewalk cleaning removes slippery weeds, as well as mud and general buildup to help keep your walkways clear for all visitors.
Call 360-360-1305 to schedule a service for your property.
READY TO SCHEDULE YOUR VANCOUVER PRESSURE WASHING SERVICES? FILL OUT OUR CONTACT FORM NOW!