Pergola and Patio Cleaning in Vancouver, WA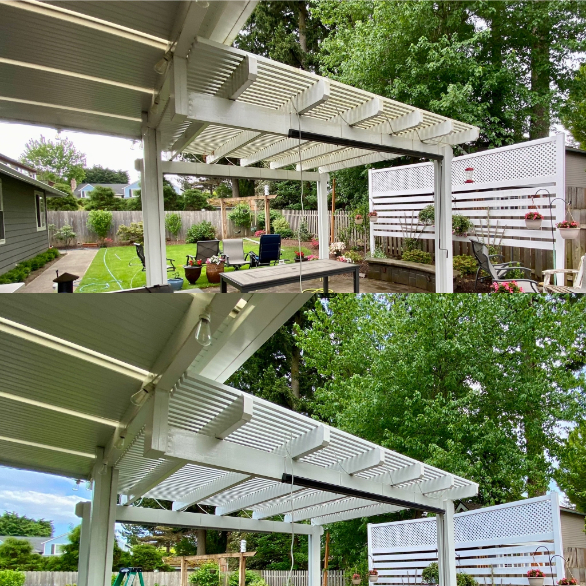 If you have an outdoor deck or patio, you likely added it to extend your living space beyond the walls of your home to be outside.
If you have found that you love your outdoor living area but that it's not quite so useful on a summer afternoon when the sun is beating down or if you wish you had protection from inclimate weather, a pergola may be for you!
A pergola extends your living space and increases the amount of time you can spend outside. Designed and oriented correctly on your lot, a pergola can cast enough light shade to make even a warm afternoon enjoyable or if you still need additional protection, you can install a retractable shade cover for more shade. Some shade covers will even protect you from a light rain, perfect for those unpredictable summer storms.
However, like anything left out in the elements it is going to need to be maintained properly to ensure the full life-span of your property. At Puddles Pressure Washing, we are prepared with the proper tools and training to make sure your home stands up to the elements of the Pacific Northwest.
This homeowner contacted us to clean his Pergola and afterward he forgot how white it really was!
The next time you're sitting on your patio or deck and notice dirt and grime in your field of view, give Puddles Pressure Washing a call/text. I promise to do my best to achieve the results you desire on ANY exterior surface.
Services: Patio Cleaning
Project Image Gallery
READY TO SCHEDULE YOUR VANCOUVER PRESSURE WASHING SERVICES? FILL OUT OUR CONTACT FORM NOW!